Chevrolet Silverado 1500 Design Features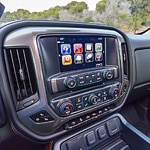 The Chevrolet Silverado 1500 consists of design features that will greatly benefit anyone looking for a truck. Its Duramax 3.0L Turbo-Diesel strives for the modern goal of fuel efficiency, especially while driving on the highway to go along with its range of 668 miles and 10-speed transmission; all this while remaining complemented with the 277-horsepower provided by Duramax and its 4×4 towing capability, allowing it to haul up to 9,300 pounds.
If the engines and powertrains aren't enough to reel you in, then the interior is guaranteed to further encourage you. Accompanying it are an LCD screen compatible with your smartphone, seats with adjustable positions and leather materials, and a Drive Mode Selector that adjusts your truck's performance (modes include Normal, Off-Road, Sport, Terrain, Tow/Haul, and Snow/Ice). Going back to the LCD screen, it allows you to modify any trailer profiles to your content; everything you'd expect for a modern-day pickup truck in one package.